The salon industry is a dynamic and fiercely competitive landscape, especially in the buzzing heart of London. Traditional marketing methods like word-of-mouth and print advertising have made way for digital marketing strategies. Among them, Search Engine Optimization (SEO) is a powerful tool that can transform how salons attract, engage, and retain customers. Let's delve into the world of SEO and understand why it is the best marketing strategy for your salon.
The Importance of SEO for Salons in London
SEO is a strategy that boosts your salon's visibility on search engine results pages (SERPs). When potential customers search for "salons in London" or "hair colouring near me," the goal is to appear as high as possible in those search results.
In an era where people often turn to search engines like Google to find local services, Search Engine Optimization isn't just important — it's essential. It is a reliable, cost-effective method to attract new customers, outshine competitors, and establish your salon as a go-to beauty destination in London.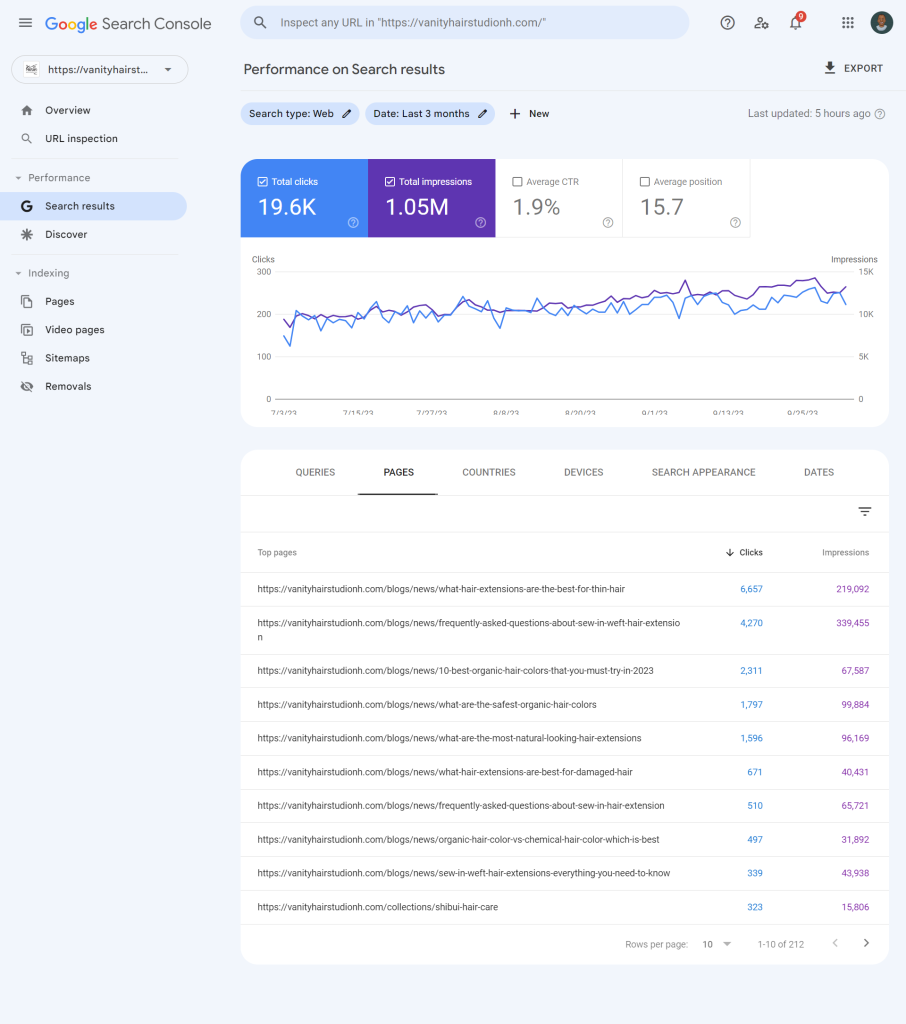 Why SEO is Key for Salons in London?
London's salon market is saturated, making it challenging to stand out. However, SEO offers a solution to this predicament. With the right strategies, SEO can help your salon attract Londoners searching for your services. Additionally, Londoners are tech-savvy customers. They tend to research online before deciding on a salon and trust search engines to provide the best options. By leveraging SEO, your salon can earn a top spot in these search results, increasing its credibility and chances of attracting these potential clients.
What are the Benefits of SEO for Salons in London?
Search Engine Optimization comes with a plethora of advantages. The most noticeable one is increased visibility. By appearing higher in SERPs, your salon gets more exposure, increasing website traffic. This rise in traffic usually translates into more bookings. With effective SEO strategies, you target users actively searching for salon services, making them more likely to convert into customers.
Implementing a Robust SEO Strategy can Bring a Multitude of Benefits to Salons. Here are Some of Them:
1. Increased Online Visibility
SEO increases your salon's visibility in search engine results. When users search for services you offer, your salon can appear on the first page of search results, leading to higher brand exposure.
2. More Website Traffic
Improving your online visibility naturally leads to increased website traffic. The more people that land on your website, the higher your chances of converting them into customers.
3. Higher Booking Rates
The people who find your salon through search engines typically look for salon services. Therefore, they're more likely to book, resulting in higher conversion rates.
4. Improved Brand Credibility
When your salon appears at the top of search results, it sends a signal to potential customers that your business is credible and trusted by others. This can help build trust and reputation in the eyes of potential customers.
5. Competitive Advantage
With Search engine effort, you can outshine your competitors in search results. This gives you a competitive edge, helping you attract more customers and grow your business.
6. Cost-Effective Marketing
Unlike paid advertising, which requires ongoing investment, the traffic gained from SEO is essentially free. This makes SEO a cost-effective marketing strategy in the long term.
7. Access to Customer Insights
SEO tools can provide valuable insights into your customers — what they're searching for, when they're most active, and what type of content they engage with. These insights can help you improve your services and marketing strategies.
8. Long-Term Results
While Search Engine Optimization isn't an overnight strategy, its effects are long-lasting. Once your salon ranks highly in search results, it can maintain that position for a long, leading to endless benefits.
9. Better User Experience
SEO involves optimizing your website for better usability and performance. This improves your search rankings and makes your website more user-friendly for visitors, enhancing their experience and likelihood of booking your services.
10. Local Exposure
Local SEO strategies can boost your visibility among customers in your immediate area. This is particularly beneficial for salons, which primarily serve local clientele.
SEO for Salon Case Study: Vanity Hair & Makeup Studio
Vanity Hair & Makeup Studio has provided top-tier beauty services for over 15 years. Their offerings range from chic haircuts and vibrant colour services to high-quality bridal hair and makeup. Recently relocated to Dover Point Office Park in Dover, NH, Vanity has continued to uphold its reputation for excellence and personalized care in its new location. Vanity Hair Studio is an award-winning hair salon featured in prominent magazines like Elle Magazine.
The Challenge
Despite having a rich service portfolio and a commitment to excellence, Vanity Hair & Makeup Studio faced a significant hurdle. Their online presence was not on par with the quality of services they offered. Their website traffic was lacklustre, and online bookings were minimal. They were missing out on a vast online customer base for a salon of their calibre in bustling London.
Vanity Hair Studio Before — How we Met them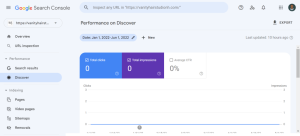 We have Started Working — Progress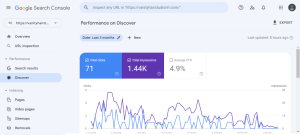 The Strategy
To turn the tide, Vanity Hair & Makeup Studio sought the expertise of DMi Agency. Our mission was clear — to devise an effective SEO strategy to boost their online visibility and increase their bookings. We began analyzing their business, understanding their target audience, and studying their competition. Our strategy was multi-faceted. It included detailed keyword research to understand what potential clients were searching for online. We also focused on on-page optimization to ensure their website was searched engine-friendly and provided a seamless user experience. Recognizing the importance of reaching local customers, we implemented a robust local SEO strategy.
The Results
The transformation was nothing short of remarkable. Through careful planning and execution of our SEO strategies, we saw a significant improvement in Vanity Hair & Makeup Studio's search engine rankings. They moved from lost in the crowd to a top spot in search results. But the benefits didn't stop there. As their rankings improved, so did their website traffic. More people were discovering their salons online, increasing inquiries and bookings. Search Engine Optimization proved to be the game-changer Vanity Hair & Makeup Studio needed, helping them connect with their online audience and convert them into loyal clients.
Vanity Hair Studio Ranking After — Still Counting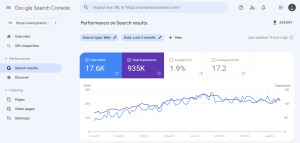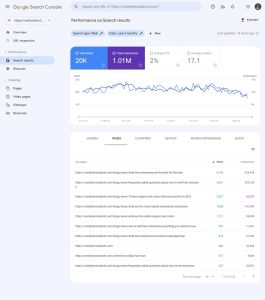 Work in Progress – fourth quarter of  2023 Report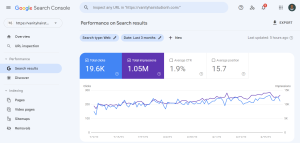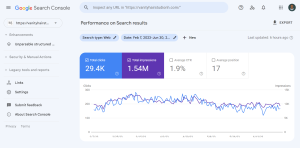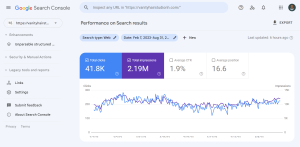 How DMi Agency Achieved Success with Vanity Hair & Makeup Studio
At DMi Agency, our approach to SEO is holistic. We started by understanding Vanity Hair & Makeup Studio's target market and business goals. From there, we conducted comprehensive market and keyword research to uncover opportunities. Next, we optimized their website for on-page opportunities, making it search engine-friendly, and implemented a robust local SEO strategy to target Londoners specifically. We create monthly SEO blogs like this. Our ongoing SEO maintenance ensured the salon maintained high rankings, even as search algorithms and market trends evolved.
The Power of Local SEO for Salons and Local Businesses in London
Local SEO is a strategy that focuses on improving your salon's visibility in local search results. When users search for "salons near me" or "salons in London," local SEO ensures your business appears in these results. This SEO form can be particularly powerful given salon businesses' local nature.
Why is Marketing Important in the Salon Industry?
Marketing is the engine that drives the success of any business. For salons, it goes beyond just promoting services. It's about building a brand, creating a persona that resonates with your target audience, and establishing your salon as a destination for beauty and wellness. The salon industry is a saturated market. Even the most exceptional salons may struggle to gain exposure without a compelling marketing strategy. Marketing amplifies your salon's visibility, helps attract and retain customers, fosters customer loyalty, and ultimately drives profitability.
What Attracts Customers to a Salon?
Factors that attract customers to a salon include:
1. Quality Services: High-quality services that meet or exceed expectations are the cornerstone of attracting and retaining customers.
2. Outstanding Customer Experience: From the booking process to the final touch-ups, the customer experience should be seamless and enjoyable.
3. Professional Staff: Workers and friendly staff significantly enhance the overall customer experience.
4. A Welcoming Atmosphere: A clean, stylish, and comfortable environment can turn first-time customers into regulars.
5. Online Presence: A strong online presence, facilitated by an SEO strategy, enables customers to find your salon and learn more about your services.
Why Work with DMi Agency Local Businesses SEO in London?
DMi Agency is a trusted name for local SEO in London. We have extensive experience working with salons and understanding their unique needs and challenges. Our tailored SEO strategies have helped numerous salons increase their online visibility, attract customers, and grow their businesses. SEO isn't a one-time task; it's an ongoing commitment. At DMi Agency, we set up your SEO strategy and provide continuous monitoring and adjustments to ensure consistent, long-term results.
Conclusion
In conclusion, SEO isn't just a marketing strategy; it's a lifeline in the digital age. Vanity Hair & Makeup Studio is living proof of the transformative power of SEO. If you're ready to grow your salon business, the time to embrace SEO is now. And there's no better partner for your SEO journey than DMi Agency. Our proven track record in the beauty industry enables us to navigate the digital landscape and create a custom SEO strategy that targets your unique needs and market. Don't wait for success to come knocking; let's create it together.
Frequently Asked Questions
What is SEO?
SEO stands for Search Engine Optimization. It is a digital marketing strategy that involves optimizing your online content to improve its visibility in search engine results.
Why is SEO important for salons?
SEO is important for salons because it helps them improve their online visibility, reach more potential customers, and increase bookings.
What are the key aspects of an effective SEO strategy?
An effective SEO strategy involves understanding your target audience, conducting comprehensive keyword research, optimizing your website, and regularly monitoring and adjusting your strategy based on SEO metrics.
What is local SEO?
Local SEO is a strategy that focuses on improving your business's visibility in local search results. This is especially important for salons, as most customers search for local service providers.
What is Salon Marketing?
Salon marketing involves strategies to promote your salon's services and increase its visibility. It encompasses a range of tactics, including traditional advertising, social media marketing, email marketing, loyalty programs, and, importantly, SEO. Effective salon marketing attracts new clients and keeps existing ones coming back. It's about positioning your salon in the marketplace, highlighting what makes you unique, and delivering an exceptional customer experience that exceeds expectations.
How can DMi Agency help my salon with SEO?
DMi Agency offers comprehensive SEO services, from keyword research and on-page optimization to local Search Engine Optimization and ongoing maintenance. Our strategies are tailored to meet the unique needs of your salon, helping you improve your online presence and increase bookings.